LANS HALAL Vege Dining
is a cafeteria for international students.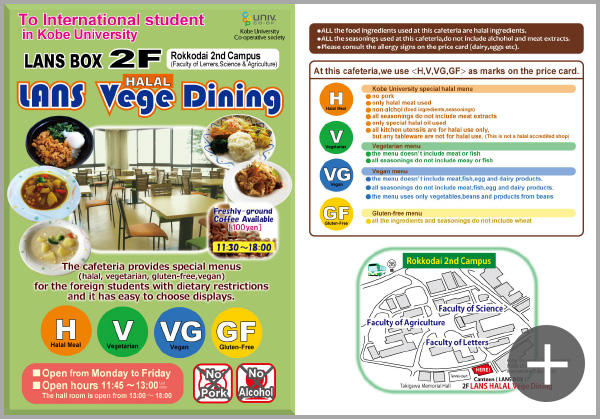 This cafeteria aims to accommodate requests of international students for more diversified diets.
Be assured that halal, vegetarian(vegan), and gluten free dishes are available.
After lunch time, you can use the space as a place of recreation and relaxation or a place to chat with Japanese students (a coffee server is available).
We'll do our best to make improvements so that you can feel more comfortable in our place.
Weekday 11:45〜13:00
Saturday ,Sunday and holiday Closed
Customer Questionnaire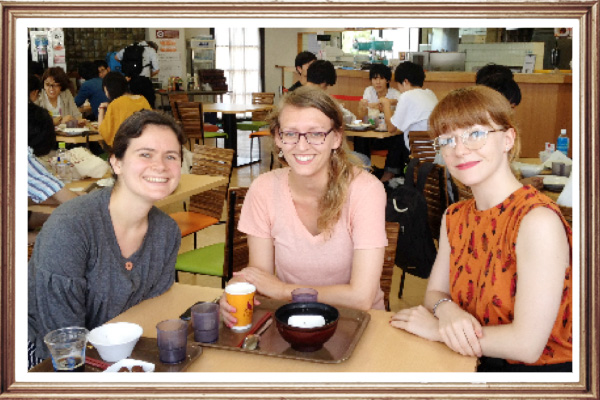 "LANS HALAL Vege Dining" of use landscape
Good Points
friendly staff
People are helpful and give a good service.
comfortable place
not so crowded
clean place
study room after lunchtime
menu in Japanese and English
The foods are delicious and have many variations.
This place provides halal foods for Muslims' students.
a lot of choice, even for vegetarians /vegan
fair prices
not so expensive
Points of Improvement
It would be so nice if there is a chili sauce.
Food sells out quickly.
I hope that the cafeteria's opening hours can be extended until 1:15pm